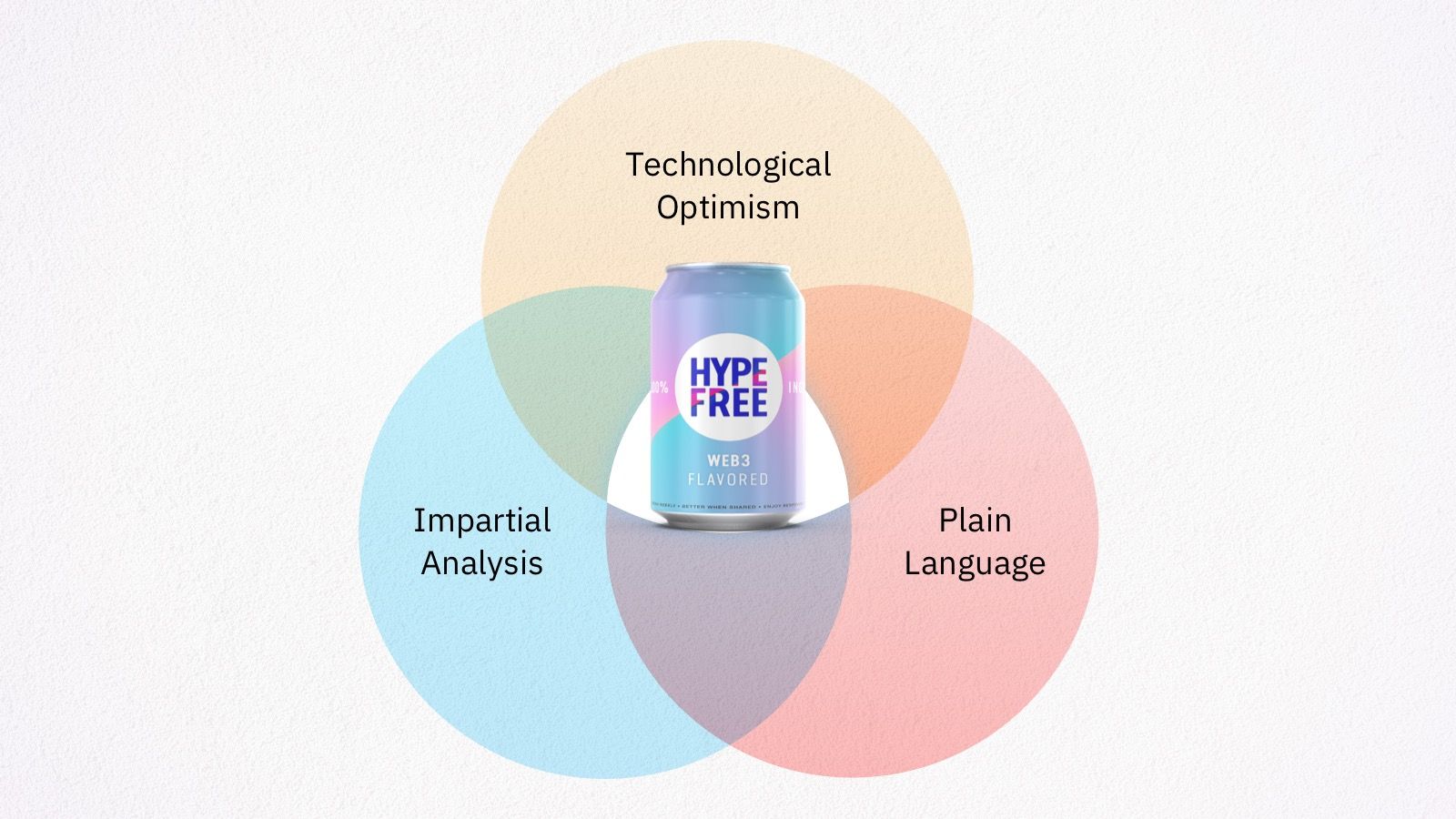 Hype-Free Web3
Demystifying the future of the internet and digital assets.
The upcoming cohort of Hype-Free Crypto begins next week. The course includes 6 core sessions over 3 weeks, as well as bonus sessions with guests speakers and office hours with me. You can sign up directly here.  
---
This Friday's newsletter is a little different. In fact, it's a whole new newsletter — a companion to my regular, longer analysis pieces.
I am launching a second weekly newsletter that will demystify the future of the internet and digital assets. Each week, it will provide concise and impartial analysis on the latest news about Decentralized Finance, DAOs, NFTs, the Metaverse, and other new ways in which people work, create, and invest online.
My existing subscribers will receive the new edition automatically. If you're not a subscriber and want to receive the new weekly edition, please subscribe here.
Wait, what's Web3?
Web Three (Web3) or Web 3.0 (Web Three-Oh) is an umbrella term for various efforts to reshape the internet in order to:
make it easy for users to control their own data and content and move between different apps and platforms;
enable users to receive a share of the revenue their online activities generates for the platforms and apps they use; and
allow web users and applications to resist censorship and the concentration of power in the hands of a small group of companies or governments.
A lot of the efforts to reshape the web involve developing decentralized computing infrastructure that is difficult to censor or shut down and developing protocols that allow users to easily port their "accounts" (identity, data, digital assets) across different apps and service providers.
Why are you writing about Web3?
The emergence of the internet is the most consequential event since apes started walking on two legs. We are only beginning to understand the consequences, but it's increasingly clear the internet will not simply connect us — it will transform us. It will change how we socialize, work, think, and remember. It will undermine and reshape our political, economic, and religious institutions. And it will enable us to collaborate — and fight — in a variety of new ways.
Web3 is a battle over the future of the internet. Not a struggle over websites, protocols, and cables, but a battle over fundamental freedoms, income distribution, access to resources, the right to remember, and the right to be ignored or forgotten.
In 2022, you can no longer ignore how the digital sausage is made. The technologies, regulations, and business models that underpin the internet affect every aspect of our lives. Everyone must have a reasonable understanding of these technologies, regulations, and business models and the trade-offs, costs, and benefits they entail.
The purpose of this newsletter is to make this type of knowledge accessible. I plan to experiment with the format over the coming weeks, but the general idea is to provide a short summary and analysis of several news items each week.
So, what happened this week?

🗽 Andrew Yang launched a new Web3 lobbying community: The former presidential and mayoral nominee announced the launch of Lobby3. In its own words:
"Lobby3 is a new Web3 community designed to give the people a stronger voice in Washington, DC — so we can build a more prosperous economic future together."
Lobby3 is a crowdfunded and crowdsourced lobbying entity. It will raise money by selling crypto tokens. These tokens, in turn, will enable their owners to participate in discussions, attend events, and influence Lobby3's evolution and priorities.
Lobby3 will be structured as a Decentralized Autonomous Organization (DAO), which essentially means it will have a shared digital wallet that enables supports to contribute money, vote on how that money will be spent, and monitor spending.
As I wrote last week, "people don't just invest in stocks and digital goods; they also invest in ideas." Crypto begins with frivolous use cases and financial speculation. Still, it is now evolving into a whole new way for large groups of people to organize and pool resources to change the world.
I expect to see similar DAOs emerge with various agendas and structures over the next couple of years.  
---
🚓 A Walmart gift card leads to the largest financial seizure: Heather Morgan and Ilya Lichtenstein were arrested earlier this month and charged for conspiring to launder billions of dollars that were allegedly stolen from Bitfinex, a crypto exchange, in 2016.
According to the Wall Street Journal, "authorities arrested the couple after seizing $3.6 billion worth of bitcoin allegedly in their control—the Justice Department's largest financial seizure ever."
Most people assume that cryptocurrencies are ideal for criminal uses because they are easy to transfer between countries and do not require a bank account, an ID, or a physical address. This is partly true. Cryptocurrencies are ideal for criminals as long as they don't try using them in the real world. As the Journal reports:
"Every transaction of bitcoin is recorded in a public ledger for anyone to see—resulting in huge volumes of data. Analyzing their patterns can reveal groups that seem to share a common source or connection. Court documents show federal agents used software tools to sift through the data in search of connections and patterns, a process called cluster analysis."
And indeed, federal agents managed to trace the stolen Bitfinex bitcoins to a series of pretty mundane payments:
"On May 3, 2020, a fraction of a bitcoin went from the cluster to an exchange that sells prepaid gift cards. In return, a $500 gift card for Walmart was sent to a Russian-registered email.

The transaction, however, was conducted via an IP address linked to a cloud service provider in New York that investigators linked to Mr. Lichtenstein, according to the agents. Portions of the gift card, filings said, were then redeemed through Walmart's phone app.

Three purchases were conducted online using Ms. Morgan's name, using one of her emails, and the couple's apartment address was provided for delivery."
Tough luck. Several cryptocurrency solutions — Zcash, Monero, and Torando — aim to provide more privacy than Bitcoin and scramble the spending history of their users. This might make it harder for investigators to trace stolen money, but it does not solve the problem of converting large sums of tokens into fiat money that can be spent on real-world daily necessities.
---
🌲 Can NFTs save the Amazon forest? A new initiative is harnessing digital tokens to fund and monitor conservation efforts in the Brazillian jungle.  
The Moss Amazon NFT project sells non-fungible-tokens that claim to represent ownership rights over specific sections of the Amazon. According to the project's website:
"Moss has conducted rigorous due diligence to select the best forests in the Amazon, with rock solid legal and environmental standing... No bureaucracy or red tape for you: Moss has taken care of it all and will act as a custodian for local authorities and notary offices, free of charges."
The organizers also say that some of the funds from NFT sals will finance satellite monitoring of the relevant plots to ensure they are indeed protected from industrial deforestation. The project's grand strategy is to acquire land in strategic locations that will ultimately block all deforestation efforts in the Amazon:
"Via your purchase of your piece of the Amazon Forest, you contribute to the creation of a "Green wall" of properties focused on conservation and acting as a deterrent to advancing deforestation. Moss has calculated that, with a 15 million hectare "Green Wall", we can deter deforestation in the Amazon. That would probably cost US$ 10 billion. We have sourced most of the needed land for that "green wall."
I have no way of verifying if any of this is true. Is this the future of environmental activism or a create new crypto scam? Time will tell.
What did I miss?
What else happened this week that I should write about? Reply to this email to let me know.  
Do you know anyone who'll enjoy this newsletter? Let them know! If you enjoyed this newsletter, please subscribe.
Comments
Join the newsletter to receive the latest updates in your inbox.