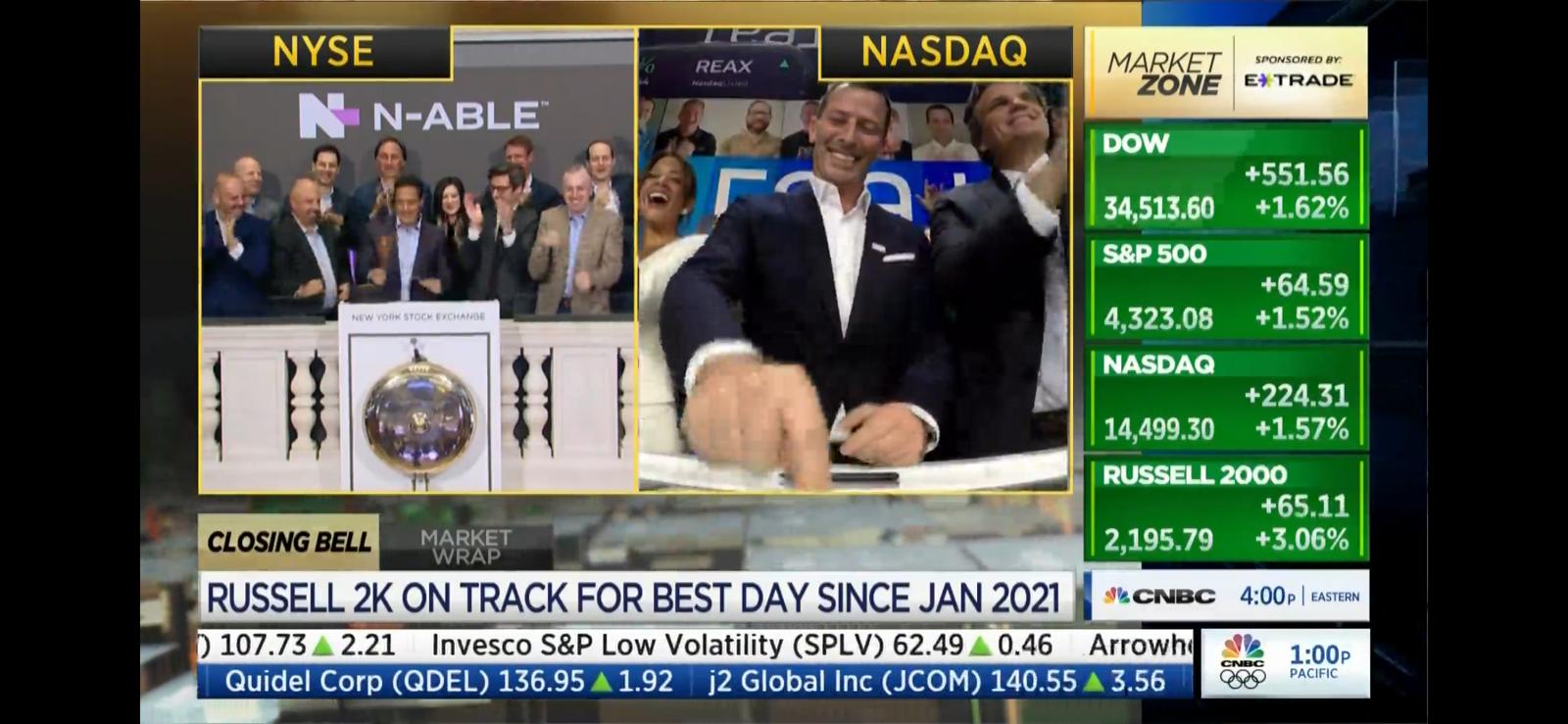 Thank you to everyone who shared their thoughts about last week's piece about religion and distributed work. I am still working on a not-much-longer but a much-better-thought-out piece about the broader consequences of remote work. In the meantime, I wanted to share with you some personal bits.
It's been a busy week. On Tuesday, I joined my family at NASDAQ on Times Square. We were there to celebrate with my brother, Tamir, whose company was listed on the exchange. He founded the company seven years ago, went through personal and professional turbulence, and ended up on top. The next day, my sister, Dana, was at NASDAQ again. The company she works for started trading on the exchange as well. It was wonderful to celebrate these achievements with them and with my parents.
My dad spent his childhood as the only Jewish kid in a boarding school for orphans, run by nuns, in rural Romania. He was not an orphan, but his father was dying from tuberculosis, and it was too dangerous for the kids to live at home. It didn't help that "home" was the attic of a tavern, at the back, just above where the patron's horses were parked.
My grandmother survived Auschwitz, lost her parents and many relatives, and probably lost her first husband and children (she never told us the whole story; we got bits and pieces through other relatives). Now, she found herself living under oppressive communist rule in Romania. After my grandfather died, she managed to get a pass for her and the kids to go to Israel. It wasn't easy: the Communists didn't like it when people left. They ultimately allowed Israel and other relief organizations to pay a ransom for every Jew that was allowed to leave. Some of the ransom was paid in cash. In other cases, Jews were exchanged for animals, cars, and weapons.
My grandmother, dad, and uncle arrived in Israel and were placed in a transit camp — a collection of sheds where new immigrants were placed and employed until they could figure out their next steps. My grandma worked in construction and as a cleaner at a local research center. My dad was sent to a boarding school that had such low expectations from its students — it did not even have a 12th grade. He spent most of his time tending to the school's farm animals and, occasionally, "borrowing" local motorbikes to drive to a nearby town. In summer, when other kids when on vacation, he remained at the school to work.
My mother's story rhymes with my father's. Her parents also survived The Holocaust — her father in labor camps and later as a soldier in the Red Army's Czech Brigade; her mother in Auschwitz and later as a forced laborer in a Nazi munitions factory in Gelsenkirchen. Both of them lost their spouses, children, parents, and most of their siblings in the war.
After the war, they were introduced by a mutual acquaintance and decided to start a family. They got married in Prague and settled in western Czechoslovakia, on the border with Germany — an area that was full of Nazi sympathizers that greeted Hitler with flowers and cheers when he originally annexed part of (and later invaded) the country. Many of these sympathizers were now being hunted and hung. My grandparents started their new life there. Grandpa was an officer in the Czech army and ran a soft drink factory that previously belonged to a now-probably-hung german.
But the new life didn't last long. In 1948, the Communist Party of Czechoslovakia, backed by the USSR, took control of the country. After surviving the camps and fighting for their freedom, my grandparents found themselves under yet another totalitarian regime. They managed to get an exit visa to Uruguay but could not travel because my uncle, then a baby, was ill. By the time he was fit to travel, the visa had expired, and the government made it harder to leave. In 1949, with help from international relief organizations, the family ultimately managed to leave for Italy and from there, on a boat, to Israel. My mother was born two years later. They lived in a tiny apartment. My grandfather worked in a local factory.
There are plenty more stories of how my parents navigated their lives. And my own interest in (and obsession with) history and financial upheaval is tied directly to my family's journey. I'll write more about it one day. In the meantime, all this is to say that I am unbelievably proud of my brother and sister for their achievements, and thank you to my parents for building a foundation from which all of us could grow.
I think of my dad in that orphanage and my mom in that tiny apartment — and then standing at NASDAQ with their children. May we all be so lucky. And tough!
Have a great weekend.
Comments
Join the newsletter to receive the latest updates in your inbox.