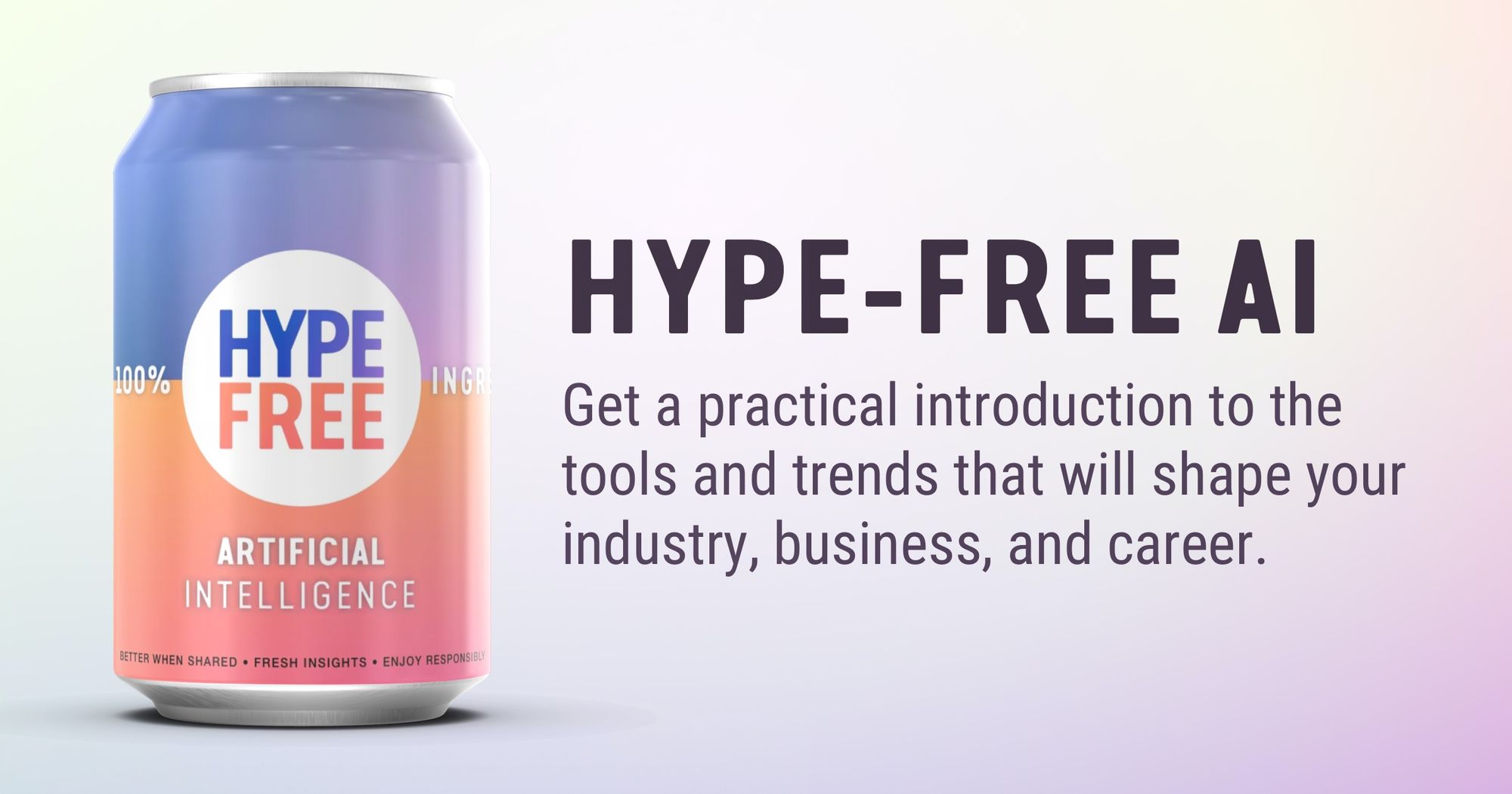 What can AI do for you?
Get a practical introduction to the tools and trends that will shape the future of work. Join a 2-week course. 100% live and online.
I just launched a Hype-Free AI Course to provide you with an introduction to the tools and trends that will shape your industry, business, and career. The course will be taught 100% online and will include six live sessions between May 30 and June 9, 2023. The cost is $600, with a $100 discount for my Premium subscribers.
By the end of the course, you will...
🔮 Understand the implications: Get a clear sense of how AI can impact your business and career — and the broader future of work 
💻 Master the latest tools: Generate text, code, images, and automations to improve your productivity and produce new ideas and solutions.
📄 Get the hang of jargon: From LLMs and Prompts to AGI and Emergent Behavior — all the insider terms you need to know. 
🚀 Future-proof your career: Keep learning on your own with a strong foundation, a network of fellow alumni, and a list of recommended sources.
What's the schedule and curriculum?
The upcoming cohort will run from May 30 to June 9, 2023 and consist of six sessions. All sessions are taught live over Zoom.
The Current State of AI
Tuesday, May 30, 2023, @ 12 pm ET
Where are things headed?
Tuesday, June 6, 2023, @ 12 pm ET
Popular Tools & Strategies
Thursday, June 1, 2023, @ 12 pm ET
Making AI Work for You
Thursday, June 8, 2023, @ 12 pm ET
Hands-On Review & Support
Monday, June 5, 2023, @ 12 pm ET
Hands-On Review & Support
Monday, June 12, 2023, @ 12 pm ET
Missed a session? You can watch the recording. Sounds good?
Who is the course for?
The Practical AI Course is for experienced professionals who want to have a solid grasp of AI tools and concepts. Those of you who participated in my other tech, crypto, and real estate classes know the drill. Alumni include curious people from the world's leading tech, finance, media, and real estate firms.

Do I get a certificate?
All participants will receive a digital credential that can be added to their LinkedIn CV and verified by current and future employers. Celebrate your new knowledge!
Can I get reimbursed by my employer?
Yes! Yes! Use this template to apply for reimbursement.
Join the upcoming cohort!
Get inspired with a 2-week course covering the latest tools and insights.Visit the course's page to learn more, or sign up directly below.
Comments
Join the newsletter to receive the latest updates in your inbox.