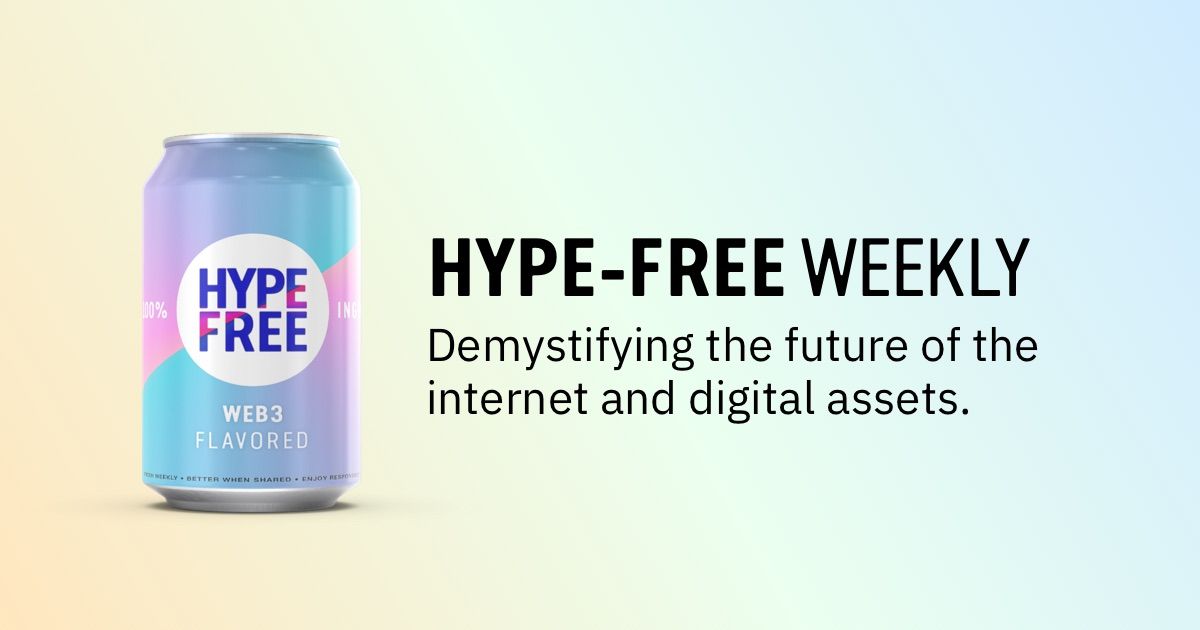 Regulation, Abstraction, and Discord Grinders
🚀 Looking for a Corporate Crypto Course? Give your team a hands-on introduction to Blockchains, Decentralized Finance, and Web3 with our private corporate cohorts. Learn more here.
This is the 3rd issue of Hype Free, a newsletter about the future of the internet and digital assets. If you're not yet a subscriber, drop your email here. Over the next few weeks, the Hype-Free newsletter will get its own separate website.
---
🧠 The upcoming cohort of Hype-Free Crypto begins on the 22nd. If you're looking for an impartial introduction to the promise and limitations of Web3, DAOs, NFTs, Smart Contracts, Decentralized Finance, and beyond — join us.
We're increasing the price for all future cohorts, so this is the last opportunity to enjoy our discounted launch price. In addition to the course, alumni also get access to our ongoing event series with investors, entrepreneurs, and other experts.
👓 What does the marriage of social media and digital currencies means for freedom, America, and the Jews? My latest for Tablet Magazine.
🎥  What can the War in Ukraine teach us about the future of money? A recording of my Webinar from earlier this week.
🎧 I chatted with Eric Satz on the Altogether podcast about family, entrepreneurship, money, and the future of the internet.
America is Coming for Crypto
On Wednesday, President Biden signed an executive order that  "lays out a national policy for digital assets across six key priorities: consumer and investor protection; financial stability; illicit finance; U.S. leadership in the global financial system and economic competitiveness; financial inclusion; and responsible innovation."
In essence, the president instructed various authorities to spend the next 6-9 months exploring how digital currencies and other blockchain-based products should be regulated or harnessed to promote American interest.
The order arrives in the midst of global concerns about fighting in Europe, with crypto playing an important role in financing Ukrainian resistance and, possibly, Russian efforts to evade sanctions.
I expect the outcome of this process will be:
Clear designation of many tokens as financial products, subject to various existing regulations
The expansion of consumer protections that apply to other financial products to many decentralized finance apps and digital products
Announcing and expediting a pilot for a new American CBDC (Central Bank Digital Currency) and/or a formal embrace of one or more USD stablecoins. Stablecoins such as USDC, USDT, and DAI are digital tokens that try to mimic the value of a specific currency or a basket of currencies.
Environmental tax and/or reporting requirements and/or carbon offset mechanisms to address emissions produced by cryptocurrencies that rely on Proof-of-Work.
Overall, the executive order is positive for cryptocurrencies. Any day without an outright ban is a good day. And the industry can now engage directly with regulators and work on ways to address environmental, legal, and national security concerns. Meanwhile, more people are exposed to cryptocurrencies, more businesses experiment with blockchain-based protocols, and the global balance of power continues. Long term, America might need crypto more than crypto needs America — but it is in humanity's best interest for America to remain a leader in financial technology.
Stripe Strikes Digital Gold?
Speaking of increasing people's exposure to crypto, Stripe announced a suite of new services that enable crypto companies to collect payments in various currencies. To cite one example, a company selling NFTs can now charge customers using a credit card without requiring them to deal with the complexity of setting up a crypto wallet.
The most interesting aspect is the application of Stripe's fraud prevention and identity verification mechanisms to crypto transactions. This could mitigate many of the concerns that regulators are looking to address. Stripe is teaming up with FTX, one of the largest crypto exchanges, to create an "on-ramp" that enables people to exchange fiat money for cryptocurrencies in a safe and compliant way.
Late last year, Shopify announced a suite of solutions that enabled NFT sellers to collect credit card payments and work with multiple blockchains without requiring customers to install a crypto wallet. Shopify and Stripe are two of the leading providers of online commerce. Their efforts can go a long way in reducing barriers for vendors and customers to experiment with cryptocurrencies and other digital goods.
The importance of Shopify and Stripe's efforts also highlights the conservation of centralization. When one part of the web gets decentralized, another part necessarily gets more centralized.
Future Job: Discord Grinder
In the future, robots will shill different financial products to each other while humans watch Netflix and play video games. But in the present, humans still need to do this type of work on their own.
What am I talking about?
A big part of the crypto ethos is the idea of community — of building things together and allowing committed contributors to access unique financial opportunities. Many NFT projects, for example, are initially sold to "whitelisted" buyers. To get on the whitelist, a person might have to participate in the project's online chatroom (on Discord), show their genuine interest, make a nice impression on other community members, and help moderate the chatroom.
That's a lot of work. And often, people who have money to invest in NFTs don't have time to hang out and chat. A new profession emerged to bridge that gap. As Decrypt reports:
"...people are engaging in a new form of social media engagement known as "Discord grinding" for as little as $5 an hour.

A recent investigation by Decrypt uncovered a thriving trade on the work-for-hire platform Fiverr, where people offer to work as Discord grinders.

On Fiverr, would-be Discord grinders post messages like, "I will staff, mod and be your crypto, gaming or NFT discord moderator or manager," and "I will interactively chat on your discord server and NFT chat."
Essentially, people are getting paid to hang out in chatrooms and socialize in order to enable their employers to get access to unique investment opportunities. Makes sense. As I wrote in Impossibly Useless:
"Welcome to the future: Work is leisure; communities are corporations; and every person is both an investor and a financial product."
Tweet of the Week
Nick is referring to the high yields paid out by decentralized finance protocols. These yields are often subsidized in order to attract new customers, using funds from existing customers to incentivize others to join. Pyramids of this kind are dangerous, but they're also increasingly necessary.
What did I miss?
What else happened this week that I should write about? Reply to this email to let me know.
Do you know anyone who'll enjoy this newsletter? Let them know! If you enjoyed this newsletter, please subscribe.
Comments
Join the newsletter to receive the latest updates in your inbox.